Wrist Analytics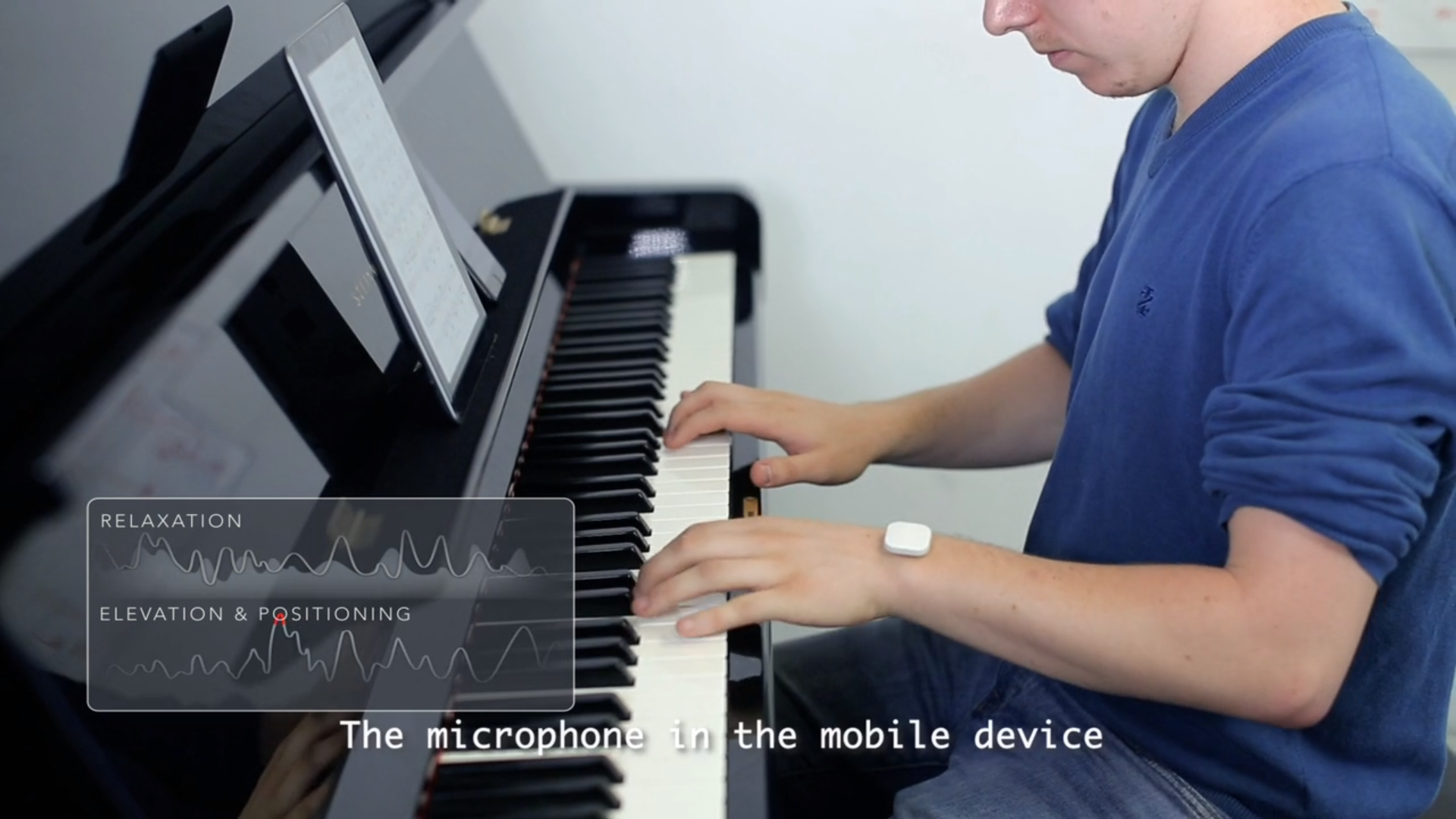 Practice it works in
A hand-wearable device that uses multiple sensor technologies to record and communicate biometric data about wrist positioning. It creates a flexible platform to interact with their hand movement data through a mobile application, whether users are at work, home or gym.
The creator of Wrist Analytics, Jintong Zhu, wants to understand how hand-wearables can help us to interact with objects differently. Our hands are used to perform countless actions all day every day, consciously. Wrist Analytics can be used in various scenarios; by selecting either wristband, stickers, or splint. One of the representatives and case studies of the project is piano playing. Physical skills training and remote learning processes require understanding of wrist motion.
Specific use
Trained piano players always stay in a small range of wrist motion. The neutral position of the wrist in piano playing is recommended for both sound quality and hand health. During a piano practise session where the teacher is not around, the band could record the piece performed by the student. Moreover, the sensing system enables Wrist Analytics to receive wrist elevation, positioning and relaxation data. Between lessons, students can go to 'weekly sessions' and practice with the comparison data. Wrist Analytics helps to shape a better understanding of the movements required to skilfully perform physical actions. For instance, the device could be advanced to allowing users to learn how to play the piano from the wearable.
Wrist Analytics also serves as a health companion as it continuously tracks wrist motions while we perform daily activities, allows us to make corrections to have a happier and healthier life. For example, long periods of tense muscles and incorrect wrist posture at work on the computer can easily lead to wrist problems. Similarly, mothers taking care of a new-born frequently experience wrist pain, ranging from mild to severe pain. Wrist Analytics then notify you if your wrists needs some rest, and the splint can protect and ease the pain.
Mobility
Users can choose to use Wrist Analytics in the form of wristband, stickers or splint, according to their daily activities. As they are also sleek and compact, Wrist Analytics is greatly mobile.
Utility vs Fashionability
With its sleek and monochrome design, it can suit different outfit styles and hence, is quite fashionable. It also has high utility as it is able to perform its job of sensing wrist elevation, positioning and relaxation and converting them into data shown in the app. However, it would be good if further improvements are made such that it could be a teacher or guide of its own, for example, by incorporating sensors, vibrations to guide one's movements in a sport (eg. yoga, squash) or skill such as playing the piano or other instruments.
Lunavity
Practice it works in
Lunavity is a system designed by a group of students at Rekimoto Lab, The University of Tokyo, to augment the human capability of jumping. An attachable multi-rotor elevates the user during the movement, enabling them to leap higher and further. In the future, where drones are widely used for delivery and transportation, the same can be applied to augment users' mobility. One can jump twice or three times as high. Lunavity adjusts to a human's natural movements, to augment the wearer's jumping ability. It also supports the body, giving a feeling of lightness to the wearer.
Specific use
Essentially, it allows humans to gain abilities totally new to man, and opens up to many possibilities of the future. For instance, it can be used in the area of sports, creating the potential for new kinds of sports as players can reach nearer to the ceiling. It could also be useful for the physically disabled and wheelchair-bound, where they can experience walking/jumping by bouncing or pushing their limbs for the first time. This would be life-changing for them. Moreover, into the future, if such technology becomes as accessible as smart phones, and has evolved to be more intuitive, we would need lesser stairs and elevators around.
Mobility
You could carry it around like a backpack. However, it is still not as compact to bring it around every day, and storage could be a problem. Perhaps, allowing the device and multi-rotor part to be foldable and more lightweight, less bulky and heavy would be good.
Utility vs Fashionability
Some would say it looks stupid, and that it looks too heavy and bulky. Hence, its fashionability is debatable. Utility-wise, it is a revolutionary technology that teleports us to a Doraemon world, but the key is in its intuition and whether the sensors are accurate enough in detecting the human's natural movement and how the users can control how much and how far to jump, and when they want to land. It has to be easy to control, or else this device would not go far in terms of using it in our everyday lives.