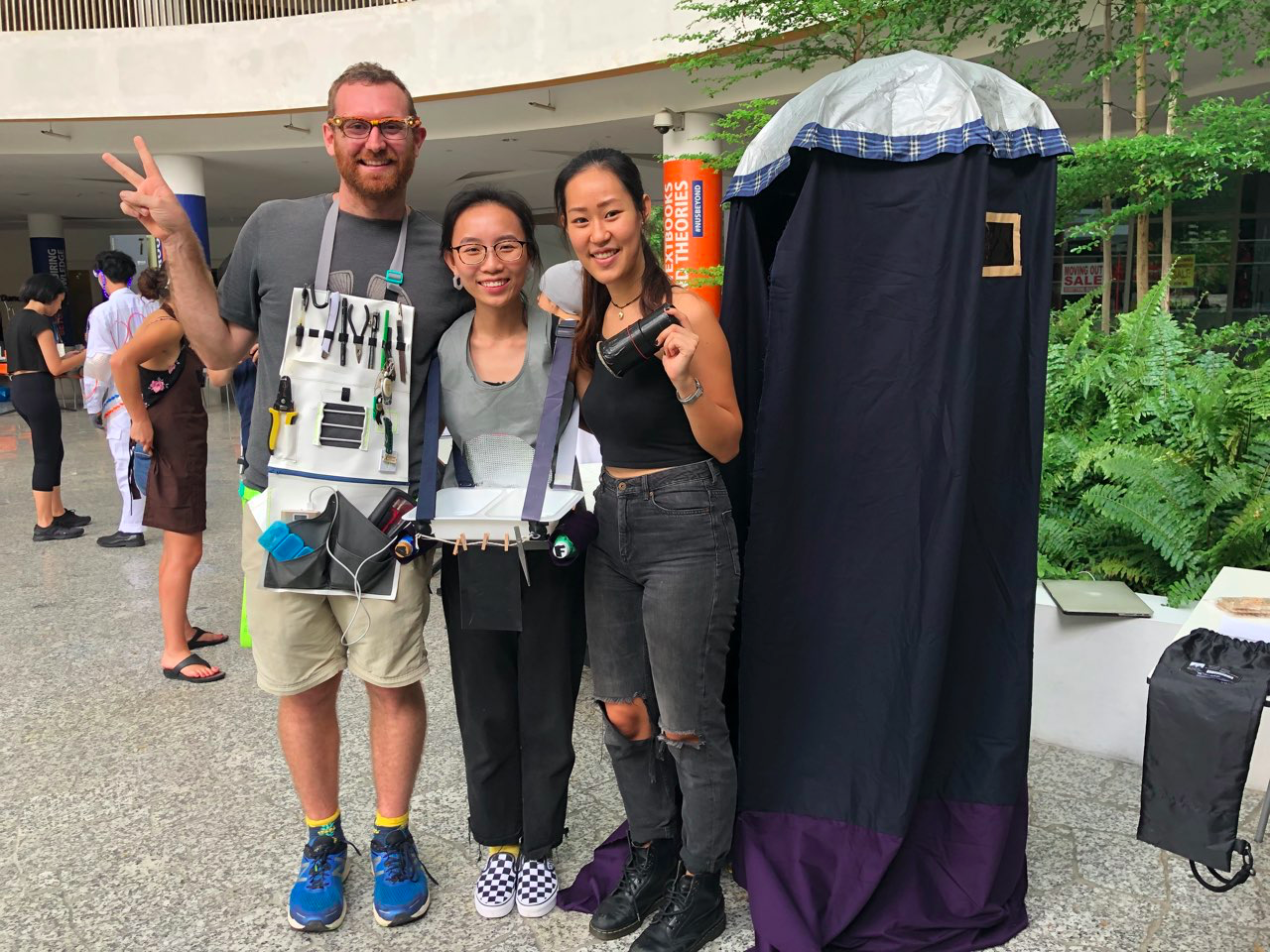 Here is the folder to our documentation for our portable darkroom prototype! (Our print document is only in hardcopy because it is done in a scrapbook style)
https://drive.google.com/drive/folders/198Wu4F_MzXNE9TyiKdNjVJ__KcO1sh4p?usp=sharing
Some extra notes about our prototype:
Ver 1:
Materials used: Foldable umbrella, tray and thin black cloth
Presented during class in Week 5
The cloth was attached to the umbrella with tape and the tray did not have any straps. The cloth was also very thin and translucent!
Ver 2:
Materials used: Hand-held umbrella, tray, twine, reflective material
At this stage, we had multiple factors to consider. We originally thought of using an umbrella hat so that it would be wearable and more portable. However, it was difficult to modify the umbrella to make it an umbrella hat because the mechanism to open the umbrella is completely different. We were also not able to find an umbrella hat online with a diameter large enough for the project. Thus we decided on using a tripod.
We sawed off the handle of the hand-held umbrella so that we could attempt to attached it to the tripod
We used reflective material bought from Daiso for the "walls" of the portable darkroom, by taping and sewing it onto the umbrella. There were two problems: First, the reflective material was not lightproof enough, and second, the umbrella got very bulky when it was closed because we had to fold in the reflective material that was sewn on to it
We duct-taped twine to the tray to create two very thin straps
Ver 3:
Materials used: Foldable umbrella, thick heavy cloth, tray with straps, tripod
For the tray, we drilled 2 holes and sawed in between them to create a slit for the strap to pass through. This process was repeated three times to get 4 slits for each corner of the tray. One of the straps was reused from an old duffle bag and the other was made from the vinyl banner material (from the makerspace).
We decided to scrap the hand-held umbrella prototype altogether and use the foldable umbrella (from ver 1) so that it would be more portable. We also bought thick cloth from Mustafa so that it would be more lightproof. Velcro was attached to the inside of the umbrella and sewn onto the cloth to make the prototype more portable.
One problem we had at this stage was attaching the umbrella to the tripod. We drilled a hole in the umbrella so that it could attach onto the screw on the tripod, but the screw wasn't long enough and the umbrella was unstable especially when the heavy cloth was attached onto it. Next we tried to glue to screw to the umbrella, then screw it on the tripod but it still was not strong enough. The last thing we tried was to attach a wooden rod to the umbrella, which fit into the hole of the tripod securely. Yay!
The other elements of the prototype were quite straightforward to make, as seen from our public documentation video. Overall, this was a fulfilling experience because we finally got it our prototype to work after failing a few times! Thank you Andy for your guidance this semester and all the best in Panama 🙂